Books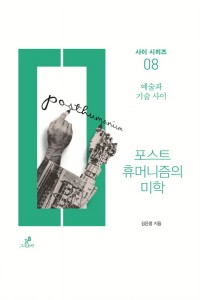 | | |
| --- | --- |
| Title | Postmodern Aesthetics: Between Art and Technology |
| Author | Eun Ryung Kim |
| Publisher | Book Korea |
| Date | 2014 |
| Series | Sa-i Series_8 |
[Explanation]
"Postmodern Aesthetics" is primarily interested in aesthetic sensibility and the changes in how this sensibility functions, both driven by the rise of new media and innovations in biotechnology. What transformations is humanities (aesthetics) currently undergoing as a subject that reflects on aesthetic and artistic sensibilities? The book features a wide range of examples from Nam June Paik's media art, video art using technologies in genetic modification, to computer games and 3D movies.

Author: Eun Ryung Kim
- Research area: English, post-colonialism, literary translation, media aesthetics
- Articles: "A Travel Writing as Cultural Translation: Focusing on Stedman's "Narrative of a Five Years Expedition"