Books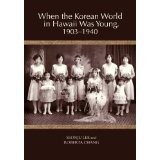 | | |
| --- | --- |
| Title | When the Korean World in Hawaii Was Young, 1903-1940 |
| Author | Roberta Chang, Seonju Lee |
| Publisher | University of Hawaii Press |
| Date | 2012 |
| Series | EIH Books_17 |
[Explanation]
This book's collaborative author, a Korean-American and researcher of Koreans, Roberta Chang has donated 700 pieces of photos and 35 pieces of videos of interviews extending 20 years of the 2nd generation of Korean immigrants migrated to Hawaii from 1903 to 1924 to the Trans-humanities Research Team's archive. The other author HK Research Prof. Seonju Lee had transcribed and gone over the English interviews for 4 years and selected 19 out of 700 interviews to publish them in 2012 from Book Korea. The resource value of the book was recognized by the University of Hawaii Press and has been republished in 2013. The 19 interviews illustrate from various angles how the immigrant community was formed, what the lives of immigrants were like and how they became bonded with religion, what relationship the immigrants had with their homeland when it faced troubles, how they made groups according to leaders and how enmity began between them. These interviews are at once both private experience and vivid records of Korean history. Author: Roberta Chang, Seonju Lee *Seonju Lee (HK Research Professor, Ewha Womans University) PhD : English Literature from Ewha Womans University Major Research : Dickens, Hierarchy and Capital, Korean-American`s Diasporic Imagination: Chang-rae Lee`s Native Speaker, Invisibility and Empowerment of Migrant Women`s Labor Research Interests : Glocality, Post-colonialism, Neo-liberalism

[Index]

Foreword
Prologue

1 Mary Hong Park
2 Mary Lee Moon Han
3 Dr.Thomas S.Min re Mollie Min
4 Inez K.Pai
5 Agnes Pahk Kwon
6 Winifred Lee Namba re Nodie Kimhaekim Sohn
7 Sarah Kim Lee
8 Mary Whang Choy re Ha Soo Whang
9 Emily Kim Choi
10 Helen Sonya Sunoo
11 Dora Yum Kim
12 Eleanor Chun You
13 A gnes Rho Chun
14 Hazel Pahk Chung
15 Mary Kim Halm
16 Dorothy Kim Rudie
17 Rosie Kim Chang
18 Esther Hong Kang
19 Howard Halm

Index
AboutAuthors

[EIH Books]
Individual books funded by the EIH.