Books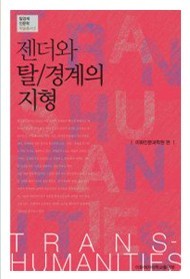 | | |
| --- | --- |
| Title | The Geology of Gender and Trans-Boundaries |
| Author | EIH |
| Publisher | Ewha University Press |
| Date | 2009 |
| Series | Trans-Humanities_1 |
[Explanation]

Featuring essays on knowledge production and the history of the Other, this book provides an in-depth analysis on the genealogy of gender structure and cultural discourses. Gender relations reveal aspects of culture that are deeply rooted in all human interactions and are expressed in the most immediate manner. By looking into the various ways gender relations become established and structured, one can begin to comprehend its complexity. The essays in this book provide various approaches to understanding gender relations through theories originating from various fields such as philosophy, literature, history, and women's studies.


[Index]

서문

제1부 경계를 가로지르는 언어와 사유

문화들 사이에서 철학하기:상호문화철학의 대두 - 최현덕
이방인의 언어와 환대의 윤리 - 김애령
탈식민 해석의 정치학:제1세계 독자에게 말걸기 - 이경란


제2부 대중문화 속의 젠더(무)의식의 지형

근대 대중잡지에 투영된'여성'과'여성다움'- 강소영
1930년대 대중가요의 센티멘털리즘과 여성성:김억 작사곡을 중심으로 - 김진희
비보이 현상과 재현으로서의 남성성 - 이수안


제3부 젠더 이데올로기와 위반의 상상력

『여계』의'여성의 도리'담론과 유교 젠더 이데올로기 - 김영숙
조선 후기 자매自賣문서에 나타난 하층민 가족 질서 - 박경
젠더 위반에 대한 조선 사회의 새로운 상상:『방한림전』을 중심으로- 김경미


[Trans-Humanities Series]

"Trans-Humanities" is the study of the relationship between human beings in trans-cultural phenomena whose cultural boundaries are drastically broken up and reshaped in a rapidly changing society. It aims at self-examining making a boundary which causes confrontation between different studies, and further, developing a research model playing a role of bridge between academic study and daily life.

To accomplish this purpose, "Trans-Humanities" has strengthened the relationship with other studies not only in humanities but also those in social science, art and natural science. Plus, it has expanded the scope of existing research in humanities to overall culture and studied about various points of trans-boundaries, listening voices of the marginal and minority group. "Trans-Humanities" is developing a model for anthropology in the future, which is able to adapt to a swiftly changing media atmosphere and seek a harmony between human and technology, and it has put much efforts to connect academic study to daily life, reinforcing the practical aspects of humanistic knowledge and seeking a more public-friendly atmosphere.

"Trans-Humanities Academic Book Series" is designed by Ewha Institute for the Humanities to reflect research results by EIH Trans-Humanities Research Team, and after the issues of glocality, gender and multimedia, this series is made to intensify the research for trans-humanities by the themes of "cultural exchange and hybridity," "post-humanism and human" and "trans-boundary imagination and reconstruction of humanistic knowledge." The EIH expects "Trans-Humanities Academic Book Series" to propose a new direction for humanities and lead a creative and future-oriented humanities.