Books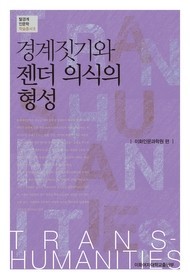 | | |
| --- | --- |
| Title | Constructing Boundaries and Gender Consciousnes |
| Author | EIH |
| Publisher | Ewha University Press |
| Date | 2010 |
| Series | Trans-Humanities_4 |
[Explanation]

"Constructing Boundaries and Gender Consciousness" examines the strict gender hierarchy that has caused discrimination and exclusion. The key argument stands against the boundaries constructed between cores and peripheries, and demands a new epistemological framework that overcomes such boundaries. The book criticizes the falsehood of gender values affecting various cultures and cultural practices. The book attempts to provide a new frame of thought for identity formation by highlighting the distorted values and fantasies that have formed the basis of gender identities


[Index]

서문

제1부 중심/주변의 경계짓기와 경계넘기
경계와 상호문화성 _ 최현덕
인문학 연구 방법론의 경계넘기: 현상학과 해석학의 방법론적 적용 _ 김애령
근대 제국의 경계짓기와 로컬 '향토'의 상상 _ 김진희
초국가적 경계넘기: 호세 마르티와 폴리 마셜의 경계 영역 글쓰기의 역동성 _ 이경란

제2부 젠더 정체성의 형성과 문화 정치
여성다움을 나타내는 어휘의 의미 구조 _ 강소영
남성 우울증과 타자적 정체성: 김승옥의 「서울의 달빛 0장」을 중심으로 _ 오윤호
살옥殺獄 판결을 통해 본 조선 후기 지배층의 부처夫妻 관계상:『추관지秋官志』분석을 중심으로 _ 박경
<색/계>의 성 담론의 문화정치학 _ 김영숙

제3부 공간의 젠더 문화론적 독해
서울 도심의 공간 표상에 대한 젠더 문화론적 독해: '검경'으로 보며 '산보하기' _ 이수안
서울의 유교적 공간 해체와 섹슈얼리티의 공간화: 19세기 소설을 중심으로 _ 김경미


[Trans-Humanities Series]

"Trans-Humanities" is the study of the relationship between human beings in trans-cultural phenomena whose cultural boundaries are drastically broken up and reshaped in a rapidly changing society. It aims at self-examining making a boundary which causes confrontation between different studies, and further, developing a research model playing a role of bridge between academic study and daily life.

To accomplish this purpose, "Trans-Humanities" has strengthened the relationship with other studies not only in humanities but also those in social science, art and natural science. Plus, it has expanded the scope of existing research in humanities to overall culture and studied about various points of trans-boundaries, listening voices of the marginal and minority group. "Trans-Humanities" is developing a model for anthropology in the future, which is able to adapt to a swiftly changing media atmosphere and seek a harmony between human and technology, and it has put much efforts to connect academic study to daily life, reinforcing the practical aspects of humanistic knowledge and seeking a more public-friendly atmosphere.

"Trans-Humanities Academic Book Series" is designed by Ewha Institute for the Humanities to reflect research results by EIH Trans-Humanities Research Team, and after the issues of glocality, gender and multimedia, this series is made to intensify the research for trans-humanities by the themes of "cultural exchange and hybridity," "post-humanism and human" and "trans-boundary imagination and reconstruction of humanistic knowledge." The EIH expects "Trans-Humanities Academic Book Series" to propose a new direction for humanities and lead a creative and future-oriented humanities.