Books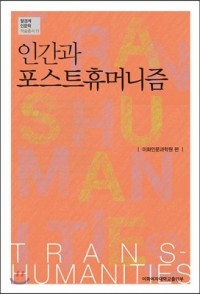 | | |
| --- | --- |
| Title | Humans and Post-Humanism |
| Author | EIH |
| Publisher | Ewha University Press |
| Date | 2013 |
| Series | Trans-Humanities_10 |
[Explanation]

Humankind of today face various trans-boundary phenomena due to the development of scientific technology such as the extension of the human body and mentality, the destabilizing of the concept of time and space due to digital networking, and the emergence of a subject without a body, etc. Such cultural phenomena which put into question the traditional concept of the 'human' require a new frame of understanding which goes beyond modern humanism. This book has been planned in answer to these demands with part 1 introducing the theoretical background which has developed post-humanism discussions and investigates the difference and relationship between humanism, post-humanism, and trans-humanism. Part 2 discusses the various ethical and moral, philosophical problems related to the development of the human being. Part 3 looks at types of human being different from present images of human, that is, the aspects of post-human representations such as the cloning ,android, cyborg, and alien, etc. in popular culture and discusses the public's understanding of the naturalness, otherness, class, utopia and dystopia implied in them.


[Index]

서문

제1부 포스트휴머니즘과 인간존재론
포스트휴먼 자아: 혼합체로의 도전 _ 토머스 필벡
뒤죽박죽인 신체들: 성형 수술에서 정신 업로드까지 _ 마이클 하우스켈러
비판적 포스트휴머니즘의 기획: 배타적인 인간중심주의 극복 _ 임석원
들뢰즈, 변신의 괴물학 _ 이찬웅

제2부 인간 향상의 윤리적 쟁점
인간 존엄성과 인간 향상의 윤리 _ 도날 오마수나
견고한 인간중심주의를 넘어서: 인간, 유인원, 그리고 컴퓨터의 도덕적 지위에 관하여
_ 슈테판 로렌츠 조르그너
트랜스휴머니즘, 세상에서 가장 위험한 생각? _ 신상규

제3부 예술 속의 포스트휴먼의 양상들
유튜브YouTube에서의 포스트휴먼 양상들 _ 옌스 에더
뉴미디어 시대의 하이퍼매개된 신체들 _ 전혜숙
포스트휴머니즘적 상상력과 문학적 재현 _ 이수진
골렘, 인간과 비인간 사이의 경계에 선 존재: 파울 베게너의 무성영화 〈골렘〉에 나타난 인간 창조의 현대적 재해석 _ 천현순
포스트휴머니즘/포스트휴먼 관점에서 여성의 '몸' 향상 혹은 변형: 에이미 멀린스의 패싱 passing을 중심으로 _ 김은령


[Trans-Humanities Series]

"Trans-Humanities" is the study of the relationship between human beings in trans-cultural phenomena whose cultural boundaries are drastically broken up and reshaped in a rapidly changing society. It aims at self-examining making a boundary which causes confrontation between different studies, and further, developing a research model playing a role of bridge between academic study and daily life.

To accomplish this purpose, "Trans-Humanities" has strengthened the relationship with other studies not only in humanities but also those in social science, art and natural science. Plus, it has expanded the scope of existing research in humanities to overall culture and studied about various points of trans-boundaries, listening voices of the marginal and minority group. "Trans-Humanities" is developing a model for anthropology in the future, which is able to adapt to a swiftly changing media atmosphere and seek a harmony between human and technology, and it has put much efforts to connect academic study to daily life, reinforcing the practical aspects of humanistic knowledge and seeking a more public-friendly atmosphere.

"Trans-Humanities Academic Book Series" is designed by Ewha Institute for the Humanities to reflect research results by EIH Trans-Humanities Research Team, and after the issues of glocality, gender and multimedia, this series is made to intensify the research for trans-humanities by the themes of "cultural exchange and hybridity," "post-humanism and human" and "trans-boundary imagination and reconstruction of humanistic knowledge." The EIH expects "Trans-Humanities Academic Book Series" to propose a new direction for humanities and lead a creative and future-oriented humanities.