Books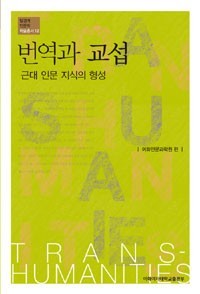 | | |
| --- | --- |
| Title | Translation and Negotiation |
| Author | EIH |
| Publisher | Ewha University Press |
| Date | 2013 |
| Series | Trans-Humanities_11 |
[Explanation]

'Translation and Negotiation' is the important process and method in which new knowledge is formed and reconstructed. 'Translation' can be extended to the definition which goes beyond the translation of words and text and covers the translation of tradition and customs while 'negotiation' allows the explanation of (in)equality of mutual recognition and interrelationship in the process of exchange. This book traces the process of modern humanities knowledge formation in 19th century Joseon, French, Chinese and Japanese texts, mainly focusing on the Korean texts around the 20th century. Out of three sections, Part 1 consists of articles dealing with the formation process of modern humanities knowledge, while part 2 and 3 consist of articles which concretely analyze the aspects of translation and negotiation through texts. The reason why this book focuses on the early modern age is that the systems and institutions that were formed at this period became the foundation of humanities knowledge. Also, the process of reconstructing humanities knowledge as boundaries between regions, culture, religion, and capital are being deconstructed today can be compared with the deconstruction of traditional humanities knowledge and the process of reconstructing new knowledge in the early modern age. Dealing with modern humanities knowledge, this book aslo evaluates the place of humanities knowledge of today in which translation and negotiation has become again an important topic.

[Index]

서문

제1부 근대 인문 지식의 구성 과정
근대 지식의 수용을 통한 어휘의 의미 확장 _ 강소영
한국 근대 지식 체계 형성 과정에서의 '조혼早婚' 인식: 전근대적 악습으로서의 조혼 이미지 성립 과정을 중심으로 _ 박경
지식 형성과 사유의 장場으로서 소설의 가능성: 『삼한습유』를 중심으로 _ 김경미
19세기 서구 근대 지식의 한 여정: 에밀 졸라의 『파스칼 박사』_ 오영주

제2부 번역의 양상
근대 문학의 장場과 번역자의 과제: 김억의 번역론 _ 김진희
조선의 번역운동과 괴테의 '세계 문학' 개념 수용에 대한 고찰: 해외문학파를 중심으로_ 김연수
『매일신보』에 연재된 『홍루몽』 번역과 서사의 근대성 _ 정선경

제3부 교섭의 양상
동서 교섭의 관점에서 본 대종교의 몸과 마음 이해 _ 차옥숭
몽테스키외의 중국관 비판 _ 송태현
전복되는 방주: 아베 고보와 쥘 쉬페르비엘의 노아의 방주 소설 _ 이선윤


[Trans-Humanities Series]

"Trans-Humanities" is the study of the relationship between human beings in trans-cultural phenomena whose cultural boundaries are drastically broken up and reshaped in a rapidly changing society. It aims at self-examining making a boundary which causes confrontation between different studies, and further, developing a research model playing a role of bridge between academic study and daily life.

To accomplish this purpose, "Trans-Humanities" has strengthened the relationship with other studies not only in humanities but also those in social science, art and natural science. Plus, it has expanded the scope of existing research in humanities to overall culture and studied about various points of trans-boundaries, listening voices of the marginal and minority group. "Trans-Humanities" is developing a model for anthropology in the future, which is able to adapt to a swiftly changing media atmosphere and seek a harmony between human and technology, and it has put much efforts to connect academic study to daily life, reinforcing the practical aspects of humanistic knowledge and seeking a more public-friendly atmosphere.

"Trans-Humanities Academic Book Series" is designed by Ewha Institute for the Humanities to reflect research results by EIH Trans-Humanities Research Team, and after the issues of glocality, gender and multimedia, this series is made to intensify the research for trans-humanities by the themes of "cultural exchange and hybridity," "post-humanism and human" and "trans-boundary imagination and reconstruction of humanistic knowledge." The EIH expects "Trans-Humanities Academic Book Series" to propose a new direction for humanities and lead a creative and future-oriented humanities.